Phone number formatting
How to write UK telephone numbers
Landlines | Mobiles | Special numbers | Overseas | Programmers | Signage
Writing phone numbers correctly makes them easier to read and remember, as well as reducing the risk of numbers being misdialled. [How?]
At a glance
The UK uses variable length area codes, prefixes and local numbers. This means that numbers are formatted in different ways depending on what and where they are used for.
| Number starts | Type | Recommended format |
| --- | --- | --- |
| 01 | Landlines (geographic) | Various – see below |
| 02 | Landlines (geographic) | 02x xxxx xxxx |
| 03 | Landlines (non-geographic) | 03xx xxx xxxx |
| 04 | Not used | - |
| 05 | Corporate numbering and VOIP | 05xxx xxxxxx |
| 06 | Not used | - |
| 07 | Mobiles, pagers and personal | 07xxx xxxxxx |
| 08 | Service numbers (special rates) | 08xx xxx xxxx |
| 09 | Service numbers (premium rates) | 09xx xxx xxxx |
Geographic landline numbers
Geographic numbers are the normal home and business numbers that begin with area codes tied to specific locations. For example, 020 for London or 01792 for Swansea.
You should:
Separate the area code from the local number with a space
Split longer local numbers with a space for readability
Optionally, put the area code inside brackets
The length of area codes and local numbers varies across the UK, which means there are several valid formats:
Format
Used for
Examples
02x xxxx xxxx
Cardiff, Coventry, London, Portsmouth, Southampton and all of Northern Ireland
Cardiff
London
01x1 xxx xxxx
011x xxx xxxx
Most other major cities
Birmingham
Leeds
01xxx xxxxxx
01xxx xxxxx
Smaller cities, provincial towns and rural areas
Guildford
Stirling
01xxxx xxxxx
01xxxx xxxx
Rural north west England and Borders
Keswick
Langholm
For specific information on individual areas, see the area code listings.
Mobile phones
There is no set pattern for mobile phone numbers, although it is helpful to break up the number with at least one space for readability.
The format 07xxx xxxxxx is probably the most widely used, including by the main mobile phone networks.
Special numbers
Freephone, premium rate and other similar numbers starting with 03, 08 or 09 can be written in whichever pattern aids memorability.
However, sticking to a single consistent style such as 0xxx xxx xxxx can look neater and aid memorability. Furthermore, as the meaning of '0800' is widely understood, a number such as 0800 123 4567 is more readily recognisable as freephone than 08001 234567.
Charge information for 084, 087 and 09 numbers
All numbers starting with 084, 087 or 09 must be accompanied by an indication of the applicable service charge. This applies wherever the number is publicised, including websites, leaflets, signs and broadcast adverts.
Examples of suitable price statements include:
"Calls cost Xp per minute plus your phone company's access charge."
"Xp/min plus access charge."
"&poundX per call and &poundX per minute, plus access charge."
The service charge that applies to any particular number can be found by consulting the provider of the number.
From overseas
If you want people to call you internationally, remove the leading zero of your phone number and prefix it with '+44'. For example, (020) 7946 0018 becomes +44 20 7946 0018.
Do not write '0044' instead of +44 – many countries do not use '00' to begin an international call and dialling 0044 will not connect. Using the symbol '+' avoids the problem by indicating to the caller that they should insert their own country's international access code; it is also recognised automatically by most mobile phones.
The complete pattern for programmers
Need to build number formatting into a piece of software or a database? The basic list of patterns and accompanying notes below show the various valid formats in the UK in 2021:
01### #####
01### ######
011# ### ####
01#1 ### ####
013397 #####
013398 #####
013873 #####
015242 #####
015394 #####
015395 #####
015396 #####
016973 #####
016974 #####
016977 ####
016977 #####
017683 #####
017684 #####
017687 #####
019467 #####
019755 #####
019756 #####
02# #### ####
03## ### ####
05### ######
07### ######
0800 ######
08## ### ####
09## ### ####

Notes to above:
# represents any digit between 0 and 9
There are also, exceptionally, two eight digit numbers in use which are not specifically included above: 0800 1111 and 0845 4647.
There are, as yet, no numbers beginning 04 or 06.
The list needs to be parsed in the order shown to work properly; the last match in the list is the one to use for any given number.
As an example, 01234567890 matches the second line of the list and no others, so is formatted as 01234 567890. Meanwhile the last line matched by the number 01134960018 is the third line in the list, so the correct formatting is 0113 496 0018.
Signage
On signs and vehicle graphics, it is helpful to display numbers in full, on a single line and with spaces in the correct place, to aid memorability and readability.
Here are examples for a small town that has the area code 01632 and six-digit local numbers.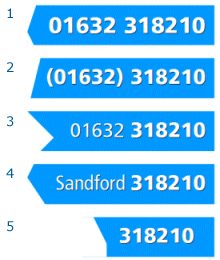 The full number is displayed on one line, allowing it to be easily read and dialled.
Placing brackets around the code can help distinguish the code (01632) from the local number. This could aid memorability by emphasising that in most cases only the last six digits need to be remembered and dialled.
Brackets can look untidy, so different sizes and weights of lettering can have the same effect while looking more stylish.
Giving the exchange name instead of the code could subtly add to the feeling of local identity or tradition. However, in most cases it is unhelpful and should be avoided - a visitor using their mobile phone may not know what code they need to insert before the local number, for example.
Where space is very limited, the area code could be left out. Again, though, it is better to write out the full number where possible.
Browse the area code listings for specific guidance on how to write phone numbers in each area.